Matrix Audio X-SABRE 3 Network-Attached DAC
2022.05.30
This review was originally published at hifinews.com, click
HERE
to view the original article.

The compact but comprehensively-equipped Matrix Audio digital front-ends are distinguished by chipset and features. We look at the flagship 'headphone-free' DAC.

For anyone still labouring under the misapprehension that Chinese-made hi-fi means cheap and cheerful alternatives to the big-name brands, it's time for an eye-opener. In practice, not only are quite a few of those big names having their products made in China, but its home-grown brands are upping their game and making inroads into markets once dominated by Western and Japanese names. A case in point is the Matrix Audio X-Sabre 3 we have here, following on from the X-Sabre Pro DAC [HFN Nov '17], Element X [HFN Jan '21] and more recently the Mini-i Pro 3 [HFN Feb 22].
This X-Sabre 3 is the new flagship model, carrying a £3250 price tag and cloaked in the company's 'hewn from solid' aluminium casework. Available in silver or black, it's a sleek-looking device, two-thirds width at 31cm but standing just a smidge over 4cm tall, and with its bevelled fascia treatment - within which sits a slender bar of touch controls and a small but easily legible circular display - it has a suitably classy, slightly mysterious look.
Ditching Headphones
Like the X-Sabre Pro, the X-Sabre 3 eschews headphone amp functionality. So this is a purely line-out device on RCAs and balanced XLRs, although it does offer the choice of either fixed- or variable-level output, allowing it to be connected straight into a power amp or active speakers using its DSP-driven volume control. That's the foundation of a very simple but effective streaming system, with nothing more than a network connection to the X-Sabre 3, and output to an amplifier or active speakers.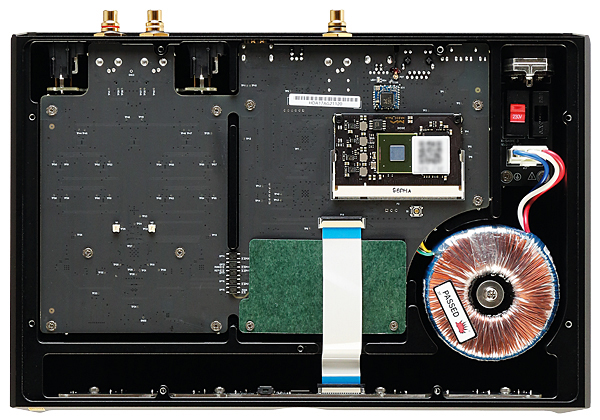 The underside of the X-Sabre 3 reveals the CNC-machined 'compartments' of its alloy case, offering some screening of its toroidal PSU transformer, the main digital/analogue PCB [large dark board] and display section [bottom]

Such a truly minimalist high-end set-up would be all but invisible given the limited dimensions of the X-Sabre 3, and controllable via the supplied remote or even as part of a Roon system. For that last option you'll need an external device running the Roon Core software or Roon OS, though this needn't be either large or visible. You might use one of Roon's own Nucleus devices [HFN May '18] or, as I did, a tiny Intel NUC mini-computer.
You can connect the X-Sabre 3 to a computer via its USB-B input, but there seems little point when the unit has its own onboard streaming implementation, fed via either wired Ethernet or Wi-Fi. Meanwhile, for those with 'legacy' digital components, the X-Sabre 3 also offers both coaxial and optical S/PDIF inputs plus an I2S-LVDS input on an HDMI connector for suitable digital sources, including Matrix Audio's own X-SPDIF 2 USB interface.
While the coaxial and optical inputs are limited to 192kHz/24-bit and DSD64 via DoP, the X-Sabre 3 offers much wider format-handling via its USB, network and I2S-LVDS connections, working up to 768kHz/32-bit and native DSD512, as well as offering standard MQA and MQA Studio Stream decoding as part of its Tidal Connect implementation. It's also the first Matrix Audio product to support the Spotify Connect service. As befits a device with high-end aspirations there's no Bluetooth here, but when network-connected the X-Sabre 3 can offer Apple AirPlay 2 connectivity with portable devices - and computers running Apple Music - over the user's home network.
Five Years On...
While this new model looks like the X-Sabre Pro, and offers a broadly similar range of capabilities, we're bound to ask what's new here compared with the five-year-old model, aside from the built-in streaming technology. The answer is 'quite a lot', as from the casework to the processor at its heart, everything here has been revised and upgraded. The X-Sabre 3 may only weigh 3.4kg - though 'only' is relative when it comes to 'no moving parts' digital devices such as this - but it feels solid and substantial thanks to its one-piece machined aluminium casework.
It's some 1cm narrower and 3mm shallower than the old model, this forming the entire housing apart from the baseplate and the tempered glass top panel, under which are concealed the twin Wi-Fi antennae. So there's no need for rubber stubs here. All the internal components hang from this aluminium structure in an 'upside down' configuration. The milled enclosure is segregated into separate compartments to isolate the power supply's toroidal transformer, the digital and analogue sections, and the streaming board from each other and any external interference.
At the heart of the X-Sabre 3 is a new processor, a quad-core 1.2GHz NXP i.MX 6 Cortex-A9 to be precise, which handles all the extra demands of the new model's streaming capability. The display on the front is also new - a high-resolution LCD device and, while tiny, it can actually show album art when streaming, 'aligning with current technological demands from a user's perspective', as Matrix Audio puts it.

Welcome To The Matrix
The digital-to-analogue conversion here is in the hands of the ubiquitous ES9038Pro DAC with a Crystek CCHD-950 clock that, via both a front-panel touch-button or remote control, allows the DAC to work in asynchronous or synchronous modes. The former, asynchronous upsampling, mode is definitely preferable on sonic grounds.
The X-Sabre 3 also offers a range of user-selectable digital filters, using a key with a little 'slider' symbol. However, as PM notes in his boxout, Matrix Audio has rather got its wires crossed when labelling the various settings, and after some time playing with them, referring to his guidance notes to discover what I was actually getting, and not finding any consistent preference between them, I finally settled on the Apodising filter - I think! - for the rest of my listening.

AES/EBU and optical/coaxial S/PDIF inputs support 192kHz/24-bit LPCM and DSD64 while the HDMI (I2S) and USB ports handle up to 768kHz/32-bit LPCM and DSD512 (native mode). Fixed/variable line outputs are offered on RCA and XLRs
Even with the trippyhippy live bonkersness of Gong's Pulsing Signals album [Kscope download; n/a cat. no.], it was clear that the X-Sabre 3 sounded best either streaming directly or using my Mac mini computer as the source, connected via USB and with the DAC running in asynchronous mode. Switching to synchronous working brought (even more) confusion to the somewhat chaotic sound, a trait also much in evidence when clearer, cleaner recordings were loaded up.
The asynchronous mode yields better clarity and dimensionality across the frequency range if you use the X-Sabre 3 as a 'computer DAC' or just streaming to it, either using UPnP/DLNA from network storage, or letting Roon do the job.
Deep Breath
And the X-Sabre 3's sound is quite capable of being breathtaking, as it is with the intense focus of Trío Arriaga's Elegie set of Tchaikovsky and Shostakovich [Eudora EUDDR2201; DSD 256]. Listening to this remarkable ensemble in the format of the original recording, there's glorious presence in the wonderfully resolved instrumental timbres, not to mention a fine sense of the interplay between the three musicians, combining fluidity and real drama.
You really don't have to go for big 'warhorse' recordings to hear what this DAC can do, and that's as true with the simplicity of pianist Espen Eriksen and trumpeter Gunnar Halle's Sangboka [Unit Records 5301; 96kHz/24-bit].
Eriksen's piano has superb weight and real percussive impact here, while Halle's instrument has an intimate breathiness whether playing close-up before Eriksen's rhythmic basslines, sliding back into an ethereal presence while the pianist solos, or when wreathed in electronic 'voices'.
That's not to say the X-Sabre 3 is all about making the most of delicate, close-miked recordings. With the Swedish Chamber Orch/Thomas Dausgaard cycle of Brahms symphonies [BIS 1756/2253/2319/2383] there's no shortage of weight and drama right from the opening of the First, while the insight into the fine detail of these 'small scale' performances is remarkable, the X-Sabre 3 delivering a well-resolved view of the forces involved.
Orchestral Might
For those more used to 'big band' Brahms, it's a novel experience, revealing more of the texture of both scoring and performance. Similarly, it sounds all the more charming and intriguing by resolving the brisk tempi with a sharp-focused clarity as Dausgaard cracks through the First in about 45 minutes rather than the typical expansive hour!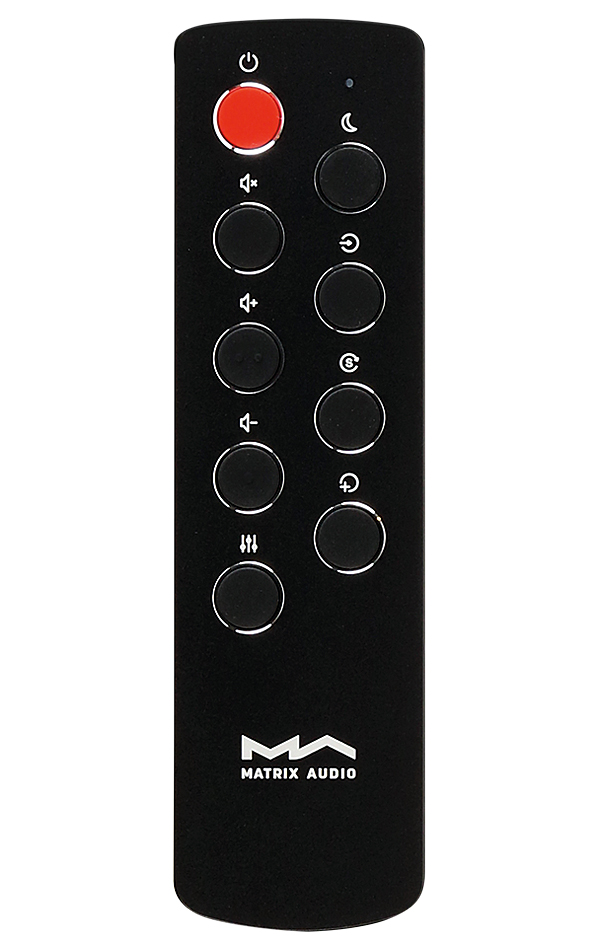 The standard IR remote offers input selection, volume, mute and access to the seven digital filters (LPCM only)
Even with the slightly thin sound of Steely Dan's live Mobile Homes, taken from a 1974 radio broadcast [Wicker Man WKMCD029], the X-Sabre 3 gives a thrilling account of the breakneck version of 'Bodhisattva' as the band kicks off after the MC's 'You may like them, personally I don't' introduction. I'm not sure if the band had a plane to catch back from Seattle to LA, but this speed is maintained throughout the set, and while the sound is far from hi-fi demo quality, the clarity of the X-Sabre 3 still makes it a fascinating listen, proving it doesn't need state-of-the-art recordings to do its stuff.
Give it just such a recording, however, and the X-Sabre 3 allows you to appreciate every bit of studio finessing. Adele's 30 [Columbia G0100046925635; 48kHz/24-bit download] may not be to every taste, with its introspection and snippets of personal conversations sometimes giving a 'too much information' feel, but the production is wonderfully lush and rich, whether with the more obvious stompers or simply the sheer power of the singer's voice on 'To Be Loved'.
While the engineers were clearly kept on their toes, the X-Sabre 3 is fully in control throughout. It reveals all the studio nuances and permits the sometimes extraordinary vocals full rein, creating the impression that - like it or not - you're getting everything the album intended, and in magnificent style.
Hi-Fi News Verdict
By adding onboard streaming to its DAC platform, Matrix Audio has upped the ante to create a truly compelling model offering network audio with minimal fuss. The reward is a sound that digs deep into fine recordings without making the rough stuff unlistenable - all this plus solid heft and good presence.
Filter Fiddles
Already implemented in Matrix Audio's Element X [HFN Jan '21] and X-Sabre Pro [HFN Nov '17], the ES9038Pro converter offers the designer seven alternate digital filter modes - five with 'fast' (sharp) roll-off characteristics and two with 'slow' (gentler) treble roll-offs. In this instance, however, MA's menu has the filters rather jumbled up... In sequence, 'Fast Minimum' is 'Apodising'; 'Slow Minimum' is 'Slow Linear'; 'Fast Linear' is 'Brickwall'; 'Slow Linear' is 'Hybrid'; 'Brickwall is 'Fast Minimum'; 'Hybrid' is 'Slow Minimum' and 'Apodising' is 'Fast Linear'. Either way, the frequency response, stopband rejection and time-domain distortion all depend on which digital filter is chosen.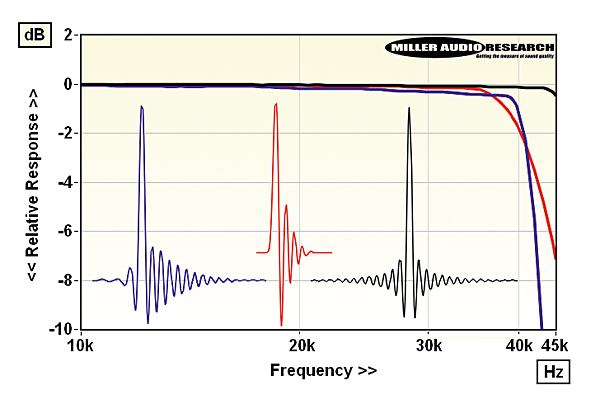 The Fast Minimum, Fast Linear [black traces, inset Graph], Apodising and Brickwall all have sharp roll-offs [the Hybrid filter, blue, has a steep but early roll-off], with Slow Minimum [red] and Slow Linear offering gentler treble roll-offs, reduced 'ringing' but poorer stopband rejection. Otherwise, those first five filters offer a similar 73-84dB rejection of digital aliasing images with 48kHz media, falling to 14-18dB with the Slow filters - these are better suited to higher sample rates. With 48kHz files the responses reach out to -0.1dB, -0.0dB, -4.0dB, -4.0dB, -12.3dB, -5.0dB and -3.5dB/20kHz, respectively. With 96kHz media, the 45kHz response limits are -0.2dB, -0.5dB, -14dB, -7.6dB, -24dB, -7.2dB and -5.1dB while, with 192kHz files, the 90kHz response limits are -0.8dB, -1.0dB, -15dB, -8.1dB, -24dB, -7.7dB and -5.6dB. PM
Lab Report
Some early implementations of the ESS ES9038Pro DAC, including Matrix Audio's X-Sabre Pro [HFN Nov '17], had higher levels of correlated jitter than might have been anticipated, but in the X-Sabre 3 and Element X [HFN Jan '21] the company has evidently improved its 32-bit Sabre DAC-based platform. Distortion is state-of-the-art low at 0.00001-0.00025% across the maximum 4.7V balanced output (20Hz-20kHz), holding to a mere 0.00035-0.00045% over the top 30dB of its dynamic range [Graph 1, below], while the A-wtd S/N is a class-leading 117dB via all digital inputs and resolution true to ±0.1dB over 100dB and ±0.25dB over a 110dB range. I discuss the impact of the seven user-selectable digital filters on time domain versus stopband distortion and frequency response in our boxout, p67, but at its 'flattest' the X-Sabre 3 reaches ±0.0dB/20kHz, -0.5dB/45kHz and -1.0dB/90kHz with 48kHz, 96kHz and 192kHz media, respectively. Otherwise, output is phase positive, channel balance is good to 0.01dB and separation >110dB (20Hz-20kHz).
Aside from the digital filters there's another option for 'jitter rejection', but where jitter is concerned the most important feature is the 'Sync' key on both the remote and front panel. In synchronous mode incoming data is processed natively while in asynchronous mode all LPCM inputs are upsampled to a 48kHz-centric master rate. A side effect of this upsampling involves a reclocking that has a profound impact on jitter - where a synchronous/native 48kHz/24-bit feed suffers a rather 'untidy' 145psec of jitter, noise and other spuriae, the same input processed asynchronously has any jitter and noise squeezed down to just 6psec [see red vs. black spectra, Graph 2]. PM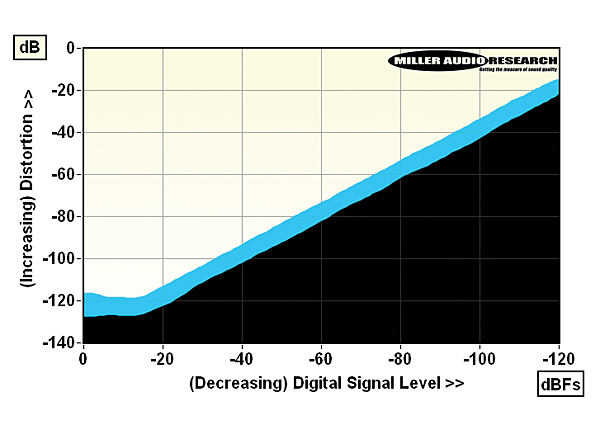 Distortion versus 48kHz/24-bit digital signal level over a 120dB dynamic range (black, 1kHz; blue, 20kHz). Note extended 0dB to -140dB Y scale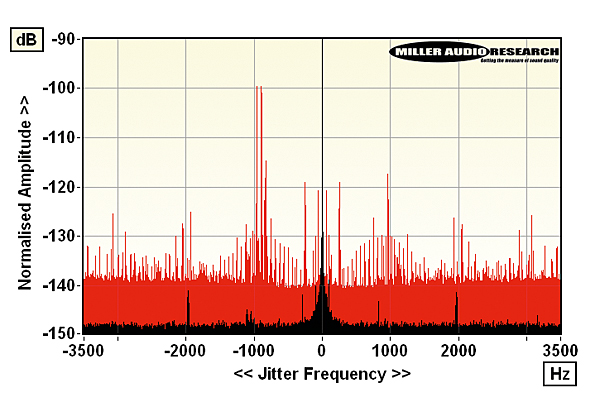 High resolution 48kHz/24-bit jitter spectra (black, asynchronous mode; red, synchronous mode)
| | |
| --- | --- |
| Maximum output level / Impedance | 4.74Vrms / 225ohm (XLR out) |
| A-wtd S/N ratio (S/PDIF / Network) | 117.1dB / 116.9dB |
| Distortion (1kHz, 0dBFs/-30dBFs) | 0.00001% / 0.00035% |
| Distortion & Noise (20kHz, 0dBFs/-30dBFs) | 0.00025% / 0.00045% |
| Freq. resp. (20Hz-20kHz/45kHz/90kHz) | +0.0 to -0.0dB/-0.5dB/-1.0dB |
| Digital jitter (48kHz async/sync; 96kHz) | 6psec / 145psec / 8psec |
| Resolution (1kHz @ -100dBFs/-110dBFs) | ±0.1dB / ±0.25dB |
| Power consumption | 9W (2W standby) |
| Dimensions (WHD) / Weight | 310x43x218mm / 3.4kg |
| Price | £3250 |